Vacuum Fluid Retrieval Unit
The Tasman Vacuum Fluid Retrieval System was designed for the retrieval of Synthetic Oil Based Drilling Fluids.
The unit consists of a Vacuum collection vessel; blower unit and explosion proof electric motor. The blower unit and electric motor are housed in a soundproof enclosure. The unit is enclosed in its own certified lifting frame with forklift slots and rated padeyes for craneage.
The electric controls consist of a start/stop station on the unit and two explosion proof remotes on 30m leads. These remotes are mounted in the working area, and can be moved to different locations. All electrical equipment has Class 1 Zone 1 ex rating and all remote and control circuits are intrinsically safe.
There are several safety features incorporated into the Tasman Mud Vacuum Unit –
The Main Isolator on the Local Control Panel is lockable in the OFF position. The Isolator must be OFF and locked to prevent the possibility of the unit being started from one of the remote stations when the unit is being worked on.
The 24VDC Control Circuit is intrinsically safe.
Vacuum relief valve set to 6.5 psi.
Pressure relief valve set to 6.5 psi.
Level control switch to indicate high level and shut down system.
Auto overheat shutdown switch on blower.
Float shutoff valve to prevent overfilling of collection vessel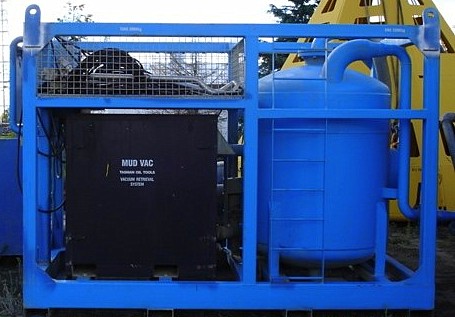 Vacuum Fluid Retrieval Unit Specifications
Explosion proof 15kw, 480 volt 3 phase 60hz @ 3,500rpm, c/w starter, direct on line
275
2 x 20m 2" flexible suction hoses c/w 2" ball valves and female camlock connections. 1 x discharge hose c/w 4" camlock connections
2 x 'vacuum cleaner' type suction wands. 2 x straight suction wands
4" camlock female connection
45m x LPE Bronze braided neoprene – standard 32 amp 3 phase
1,800L recommended draining at 1,250L
Dimensions
126 (3.2)
96 (2.44)
61 (1.55)
7,054 (3,200)
11,023 (5,000)
Vacuum Fluid Retrieval Unit for Offshore Use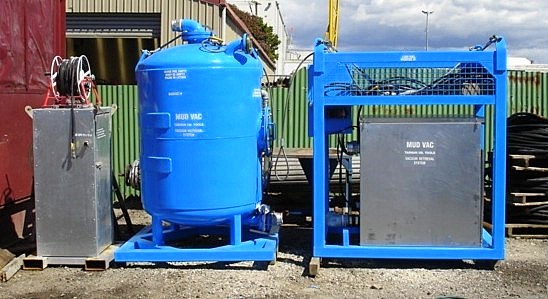 Offshore Vacuum Fluid Retrieval Unit specifications
Explosion proof 15kw, 460 volt 3 phase 60hz @ 3,500rpm, or 415 volt 3 phase 50hz @ 2,950 rpm, c/w starter, direct on line
275
Hoses, hard piping, hydrants, adaptors and wands are provided to suit the application
4" camlock female connection
45m x LPE Bronze braided neoprene – standard 32 amp 3 phase
1,800L recommended draining at 1,250L
Dimensions
Blower Package
69 (1.75)
75 (1.9)
50 (1.275)
2,000 (900)
Vacuum Tank Package
59 (1.5)
86 (2.2)
51 (1.275)
1,900 (850)
Total Minimum Deck Space Required = 4.2m2 (1.275m x 3.25m)