Jar Tester
The Tasman Jar Tester unit is designed to test the operation of fishing jars, down hole drilling tools and drilling jars. It consists of a horizontal frame fabricated out of standard heavy duty H-Beam.
The beam extensions can be joined together with provided bolts. The compression and tension forces are applied through a hydraulic cylinder which can be read on the analogue gauge mounted on the control console.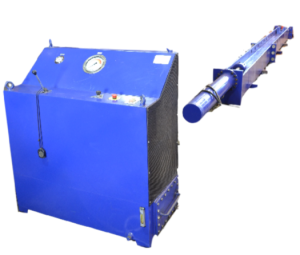 Key Features
One man operation.
Simple beam frame design.
Supplied in split lengths, which can be jointed as per space requirements; longer tools can be accommodated.
Capable of testing, tension & compression.
Test force can be adjusted to attain desired force for proper testing.
Specifications
For inquiries, please contact your local Tasman sales representative.