Health & Safety Bulletin – Safety Training – Oct 20
National Safe Work Month
safeworkmonth.swa.gov.au
October is the National Safe Work Month and this year's theme is Work Health and Safety through COVID-19, that acknowledges and reflects the wide reaching-impacts of COVID-19 on all businesses, employers and workers.
In line with this campaign, I have registered the organization within Safe Work Australia (SWA) and Australian Institute of Health and Safety (AIHS), by joining the Safe Work Month initiative and sharing these resources available to us and staying focused with these developed SSHE programs.
Staying SSHE Focused
We have safety videos for the month of October which will be rolled out via SAFETY HUB. These safety videos feature a 2-5 minutes presentation of the workplace safety measures and these includes topics that is relevant to health, workplace set up, emergency response, forklift operational activities and others.
Safety Shorts (Videos) Line Up
In partnership with our Training Provider for Safety, Safety Hub, we have the following safety videos lined up for viewing:
What is Correct Lifting and Safety Techniques, this short video runs for 4 minutes and accidents and injuries arising from incorrect manual handling technique comprise the largest group of occupational hazards that result in lost. This gives a quick overview of correct lifting and carrying technique.
WorkStation Set up, is a safety short that outlines the important factors to consider when setting up a WorkStation, with 2 minutes running time.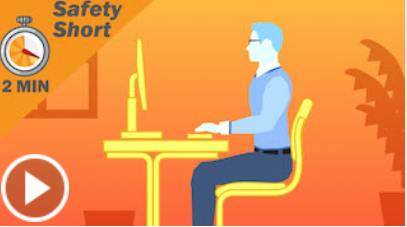 Fire Extinguisher Safe Operation, this is a short safety video that gives an overview of how to use a fire extinguisher, with a running time of 5 minutes.
Forklift Pre-Operational Checks, this safety short gives an overview of checks that would need to be performed before operating a forklift, running time for this video is 1 minute.
Gas Cylinders General Guideline, with a running time of 2 minutes, this safety short gives some general guidelines to apply when handling gas cylinders.
Gas Cylinders Pre-Use Check, with a running time of 1 minute, this safety short gives an overview of items to check before using gas cylinders.
Information
Refer to your training assignment to view these safety videos.