Health & Safety Bulletin – Easter Safety – April 20
This months Safety Bulletin highlights the following tips that can help you keep safe whilst working remotely, on self isolation and at home.
Safety Tips during Covid-19 Pandemic
Spreading cold and flu germs is easy, all it takes is a cough, a sneeze, and unwashed hands touching surfaces/desks/phones. It is recommended whether you're at your own home, in public place and at workplace, it is important to wash, wipe and sanitize on a regular basis to prevent the spread of germs transmission.
Cover your nose and mouth with a tissue and throw the tissue away.
Stay at home, if you have any fever and flu like symptoms and seek medical advice.
Safety Tips during Easter at Home
As most of use will be staying home during the Easter break due to travel ban and government restrictions, it is important for us to stay home this Easter and save lives. We are only allowed to leave when we need to exercise, when we need to go to medical and care. Remember that police are stationed at locations where majority congregate; areas such as beach/tourist spots will be patrolled during this time.
It is also an opportunity for us to complete the home tasks/renovations/upgrades allowing time to complete. Below is safety tips reminder for anyone who will be using power tools, electrical machineries, and other home appliances during this time:
Inspect any power tools prior to use.
Use stepladders safely, ensure they are fully unfolded with the braces are locked.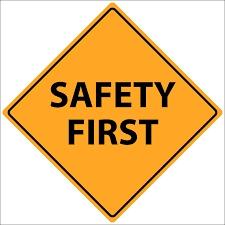 Safety and Healthy Diets
With this government lockdown and working from home arrangements, it is challenging for some of us to stay out of the fridge or our pantries, where access to food/snacks is very convenient for us. The challenge for this Easter break is to keep ourselves' healthy with a well-balanced diet. It is during this time that we are reminded to:
Not overindulge in Easter chocolates
Have a balanced calorie intake
Walk or participate in light physical activity (if able to)
Drink 8 glasses of water, and
Others
For a new hope and new beginning this Easter 2020!
Stay safe!