Products & Services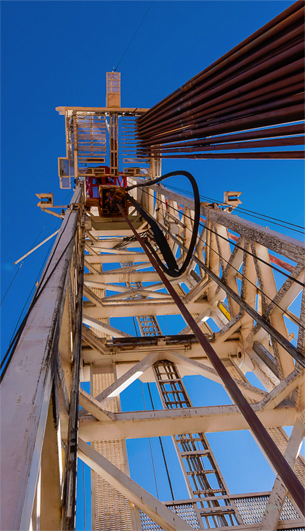 CEMENTING
Tasman offers a range of oil well cementing equipment, including Mule Shoes, Cementing String, Cementing Hoses and Triplex Pump.
Mule Shoes
A Mule Shoe is a sub with a nose open to allow fluid to pass such as cement and also to orient the drill stem downhole. Mule Shoes are manufactured in house as per client specifications.
Cementing String
Tasman 3.1/2″ IF Cementing String consists of 15 x 3.1/2″ IF Joints Class II pipe and one Cement Stinger mule shoe with 3.1/2″ IF Box connection.
Cementing Hoses
The cementing hoses listed below are not designed to use as a high pressure system. These are simply plastic open ended hoses used for topping up cement.
Top up cement hose, c/w x-over & 1502 WECO female fitting & 10m x 1″ alkathene pipe
Top up cement hose, c/w x-over & 1502 WECO female fitting & 25m x 2″ alkathene pipe
Triplex Pump
JWS S-165 Triplex Pump
The JWS Triplex Pump is a skid mounted pump unit designed to pump gravel slurries, it is also capable of pumping any number of well treating fluids. The standard unit is equipped with an auxiliary air compressor for actuating or supplying power to various ancillary equipment. This unit can be split into a pump skid and an engine skid for ease of handling.
---
Applications
Pump unit designed specifically for gravel pack operations
Designed to pump gravel slurries
Capable of pumping any number of well treating fluids
Features and Benefits
Zone II rated: Water Cooled Manifold, Spark Arrestors, Air Start, Sentinel Mechanical Shut Down System
Safety valves tested with certificates
Upgrades
Shut down Chalwyn Valve
CCLE for Offshore lift
Pressure Relief Valves
Anti-Static Fan & Belts
---
Specifications
96 (2.44)
84 (2.13)
216 (5.50)
20,430 (9,300)
Detroit 6V71 Engine Allison CLBT 750 Transmission
Rated Pressure 115-120 psi Rated Flow 12.5 cfm
Displacement Tanks Two 10 bbl Fuel Tank 100 gal
Download Technical Data Sheet